While sharing a house as a student is a great opportunity to create amazing moments and form lifelong friendships, there's also a few things to consider when sharing a house with other people.
There's no doubt there is a lot of demand for student homes, but there's a wide range of choice available from one-bedroom student flats – ideal for those who want to share with a partner – to much larger houses that most people traditionally associate with student living.
There are upsides and downsides to sharing big properties; you'll never be alone is one of the upsides, while the downside is, you'll never be alone. Some of us crave peace and quiet for when we need to study but there may be distractions and parties at various times that make sharing a student house a stress.
So, choose who to share a house with early doors and try not to choose people just to make up the numbers, especially as you'll need to get along!
Students sharing a house.
Imagine living with people who never wash up, cook, clean or more importantly buy teabags!
When you're living with mates, you want to be having a good time, not falling out with at every opportunity.
Which brings us nicely to the issue of the rapper Lil Yachty who shares his house with 10 friends. That's right, he has opted to live in a big house with 10 other people because he does not like 'being alone'.
The rapper recently told a radio show that he shares his home with friends from his school days.
One reason for this, is that when he's with his childhood mates he often forgets that he's a famous hip-hop star, which isn't the case when he's with music industry friends and it's a way for him to relax.
Another reason why he enjoys sharing a house with so many people is that he tours quite a lot and is away recording, performing and being interviewed by journalists, so he often feels isolated and looks forward to returning home where his friends have his best interests at heart.
Along with sharing the bills in a student property, having the opportunity of sharing a quality home with friends is a great way to be grounded for your studies, so you can focus effectively on landing a quality degree which is the purpose of attending Uni and investing so much in your education.
 Offering all-inclusive bills…
Another way to nail a stress free student lifestyle is to have someone organise the bills, for example, getting the gas and electricity connected, and dealing with payments though growing numbers of landlords offering all-inclusive bills that cover their business utilities.
This means students can budget effectively because they know what their utility bills will be every month when sharing a student property and with Glide it means that these utilities can be arranged before students move into their home and they will be billed individually for their utility costs.
Alternatively, students could arrange for the utilities to be connected and contact providers directly and then arrange for the payment every month or every quarter, but everyone in the property is responsible for paying the bill. So if someone does not pay, cannot afford to pay or simply refuses means that the person who's name is on the bills, will be left to pay.
Purple Frog say that a "lot of tenants ask about how to deal with utility companies. Normally students can only sort out their bills once they've moved into their property, which becomes pretty stressful especially if they've never had to deal with utilities before. We do have tenants who put off setting up their utilities because they can't make sense of them. They end up putting it off only to find they're paying huge amounts to different companies because they've not sorted anything. We're all for making our tenants' lives as easy as possible, so taking the fuss and confusion out of utilities is something that we can really get behind. Anything that makes bills simpler is a real plus."
Accessing student broadband deals!
Students sharing a house will also be interested in accessing student broadband deals that meet their needs.
There's no doubt there is a wide range of deals on offer from big-name providers, but Glide can also offer broadband and include it as part of the monthly bill. Landlords and agents may also be interested in this offering as well.
For those who decide to shop around for student broadband, then it may be tempting to be taken in by adverts from large firms that promise superfast fibre broadband connection and 'awesome telly'.
One offering says students have the power of 'living your best student life' when signing up to their offer.
However, what many students may not appreciate is that this 12-month offering means you'll be tied into a contract when you are not living in the property, but will still be required to pay for the broadband.
Student-friendly contracts…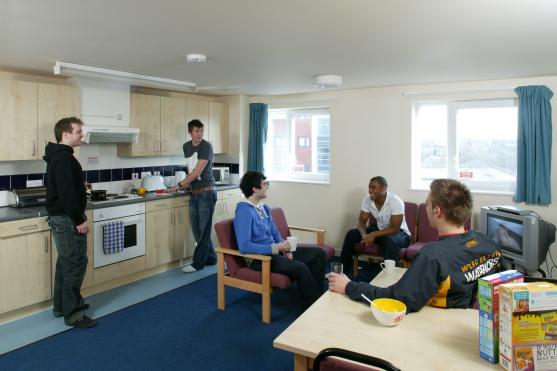 For students on a budget, this is not a satisfactory situation whereas with Glide their student-friendly offering is for nine months, which is generally how long students will be sharing their home for.
In the deal that the well-known firm is offering, they have broadband speeds of up to 54 Mbps in their basic offering, which suits up to four devices being connected.
They also offer other bundles including 108 Mbps for up to nine devices being connected and slower speeds that offer TV and weekend calls.
There's a wide range of broadband offers for students to meet a wide range of budgets, but when it comes to sharing a house, students need to be wary of the bills and unsuitable broadband deals which is why the friendly team at Glide can explain and arrange your utility and broadband connection.