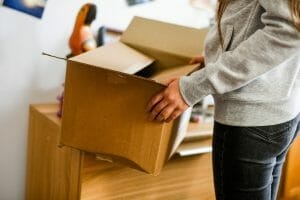 Moving day is on the horizon! Here are my top tips to make sure it goes smoothly and how to avoid chaos and last-minute panic.

Clear your Clutter
It's time to remove the blue tack from your bedroom walls and scrub those suspicious stains from the top of the oven. Make sure you check your cupboards for any pots, pans and plates you brought with you. In the manic madness of moving I forgot to check and left my saucepans in the communal cupboard where all great kitchen utensils went to die. Luckily, we had a very laid-back landlord, but be aware because you can be charged for the removal of anything left behind!
Celebrate Out
The time for you to part ways with your housemates is fast approaching. If you're planning a final send-off save yourself from the messy aftermath of a night in and head into town instead. I celebrated with my friends in classic Wetherspoons purple rain style. Reach for the drinks menu and say goodbye in style!
Plan, Pack, Prepare!
Transporting all your things can be a mammoth sized task! My moving day involved several car journeys, boxes rammed full of stuff and bribing by parents with a bottle of prosecco. If you don't drive it's time to start asking family and friends to lend a hand. If that's not an option you could look into hiring a man with a van.
Update your Address
You just survived a year at university. Before the urge to treat yourself kicks in make sure you've updated your address on any online accounts. There's nothing more gutting than realising your Just Eat order has been sent to your old place!
Snap and Send
Grab a snapshot of your meter readings and send it to your gas and electricity provider. You'll need to let them know your tenancy has come to an end and you're no longer responsible for the utilities.
Keys and Chaos
If your jacket pocket is jangling on your way out remember to fish out your keys and leave them in a safe place. Avoid the chaos of having to return your keys at a later point or paying out for a new set. I learned the hard way!
Chase Up Your Deposit
Get in touch with your landlord about your deposit. Between me and my housemates we'd flushed the bathroom lock down the loo, pulled off a part of the stair banister and tore off the top of one of the dining room chairs (don't ask!) Even if you're not sure if you're owed it you should inquire anyway! That money will come in handy in the future.
Whether you're taking a gap year, moving into a new place, or are going back home to live with the fam, your moving out day marks the beginning of a whole new adventure. Get out a notebook and write a checklist of things you need to remember – make the transition into your new life plain sailing!
Checklist:
– Pack stuff
– Arrange transport for moving day
– Clean house
– Night out
– Meter readings
– Leave keys
– Change postal address
– Contact landlord about deposit
Written by Rose Drabble