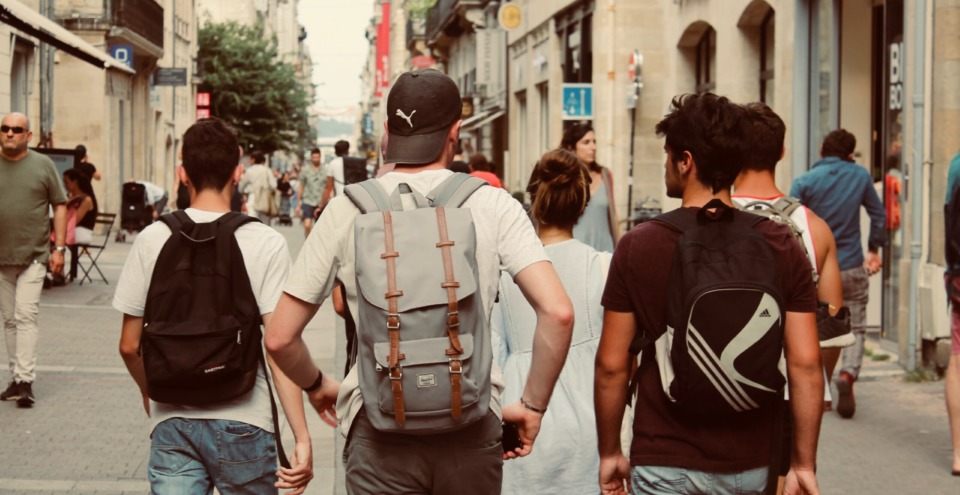 Want to make the most out of your Summer break but your pockets are looking a little empty? Panic averted, we've picked out these fun filled free days out for Students so get that bag packed and go go GO!
📍Brum
Birmingham is home to LOADS of history and cool places to visit, some of which won't cost you a penny! Check out these awesome spots where you could easily make a day out from…

Birmingham Museum and Art Gallery
Home to a huge collection artefacts, exhibitions and Egyptian Mummies, this Brum relic is a beauty from the outside – in. Delve into a different era and brush up on your History in this amazing space. There isn't a cost for entry but donations are welcome and the gift shop might have you itching to treat yourself!
Boasting a collection of 800,00 books, a Secret Garden and walk through fountain, this architectural delight is located in central Birmingham and is a stones throw away from restaurants, bars and one of the UK's biggest shopping centres. Day out, sorted!

It's no secret that Birmingham has more canals than Venice. Although they might not have that Italian charm, walking alongside them and reading up on historical plaques and signage makes for a great stroll and is a Glider fave when it comes to free days out! *Pub Crawl sold separately*
Spend a day in the creative hub of Digbeth, Birmingham. You can take a stroll through this vibrant spot and admire all of the mesmerising street art and graffiti. Home to Birmingham arts and culture, this bustling area is home to some delicious foot spots as well as live music and good vibes! The Custard Factory sometimes hosts events which don't charge entry, making this a must on our free days out list!

📍Bristol
A day out in Bristol doesn't have to be expensive. This buzzing city is a popular spot for Students, with so many things to do you won't have you yawning anytime soon!

With 19 galleries over 3 floors, you'll have plenty to set your sights on in this Museum. Bristol Museum is home to everything from natural History, world artefacts and archeology making for an awesome pick on our free days out musts.
A taste of the country in the heart of Bristol, Queen's Square homes lush manicured lawns and gravel paths in a large open air space, making it a perfect spot for picnics! Grab a bag and fill it with snacks, a good read or portable speaker (depending on your mood) and you're sure to be set for the day!

This international centre of contemporary art and design has a gallery, artist work space and café. This vibrant spot hold regular exhibitions and workshops which are free to attend! A perfect way to get stuck into the creative atmosphere that Bristol is known for.
Take a step back in time with this awesome period Museum. With 11 rooms spread over 4 floors, you'll be able to get those old world feels and take a glimpse into Georgian living. It's amazing to see how this building has been preserved and restored to its original glory, deffo worth checking out!

📍London
The capital City has an endless amount of things to do, but can leave a hole in your wallet! These awesome free days out will have you loving life in the big smoke and saving those pennies too!

This renowned Art Gallery is situated in the heart of London, making it an amazing free day out full of exciting visuals and loads to learn! With regular exhibitions and events, it's worth checking out what's on before visiting so you can plan your day ahead. We LOVE this space, it's a must see when visiting the Capital.
This free museum explores health and the human experience. If the sight of blood makes you feel feint, this may not be the one for you! With it's in depth look at all things health & illness, this place has an element of gore and might have you cringing! Pre Halloween day trip anyone?

Who doesn't want to see a giant prehistoric skeleton floating above ground? The National History Museum is full of delight with an endless amount of cool things to see and get involved in. With free admission to the Museum, you'll be able to save your money for a cheeky bite to eat in the city!
This huge open space hosts events throughout the year, some of which are free! The perfect spot for a quiet day out to reflect or even a group gathering where you can chill and make memories. We love how you can get stuck into the buzz and atmosphere and also find a secluded area away from the noise – the best of both worlds!

📍Manchester
This Northern hotspot is packed full of exciting things to do for free! Uncover the history of this busy city and learn about its culture through these awesome free days out…

When it comes to free days out, Art Galleries are a winner! Immerse yourself in an exhibition and spend time appreciating the local talent and skill in this super cool gallery. If you're feeling inspired after your visit, why not create your own Masterpiece? Grab a canvas, dig out the paintbrushes and channel your inner Van Gogh!
A day out doesn't mean you need to cram in activities or wear yourself out. We all need time to slow down, collect our thoughts and recharge too! Platt Fields Park is a great spot for just that. Pack your picnic blanket, grab that novel you've been meaning to read and hunt out the perfect patch for you. Wellbeing checks are super important and focusing your attention on how you're feeling can help improve your focus at Uni.

This awesome Museum won't have you standing around staring at walls. It's interactive exhibition showcase just how great modern science is! You'll be sure to pick up some interesting facts on how science has helped shape the society we live in through this converted railway station.
Manchester Craft & Design Centre
Located in the quirky Northern Quarter, this Design Centre used to be part of the fish and poultry market many moons ago! Get involved in creating your own products or simply tour the space and brush up on your knowledge. The Northern Quarter is home to the coolest bars, food spots and nightlife so your day trip could easily transition into the night…

Adventure Time 🗺️
Found your spot? Now you'll be able to start Uni in September with a little extra change in your pocket and all of those Summer stories to tell – Yeet!