Find your tariffs
Gas and electricity costs vary according to postcode; pop yours in below, and we'll tell you how much. (You'll find general info on our other services below…)
Shield Secure Tariff
Our Shield Secure tariff applies to customers joining Glide on our website or over the telephone and protects you from any price increases. From streaming to gaming to binge-watching Netflix our Shield Secure tariff lets you enjoy life without any worries.
Value added tax (at the applicable rate) is included in any charges for energy which are subject to value added tax. This may be different to the way these are displayed on your payment plans and energy statements.
Glide Lite
If you've moved into a property where the energy is already being provided by us, we'll automatically switch you to our Glide Lite tariff. This is a temporary tariff to keep the lights switched on and heating available, while you decide whether to sign up with us or to switch provider. You can find more info about this on our Did the previous tenants use Glide? page.
Carefree Energy
Our Carefree Energy means you won't have to worry about how much energy you are using in your property. All housemates will be charged a fixed amount, regardless of the consumption, making your time at uni as convenient as possible.
Tariffs in detail
Please find our detailed tariffs below. For more information, please visit our Help section.
Energy
All our prices are quoted in pence per day or pence per kWh and include VAT and Climate Change Levy.
What is a kWh (kilowatt-hour)?
This is the unit of measurement that all energy providers use to bill customers. It's the equivalent of:
Binge-watching 7 hours of your favourite series
Boiling the kettle 10 times for your morning cuppas
Browsing the net for 4 hours on your desktop PC in an attempt to avoid coursework
Broadband Pricing
Price
Minimum Contract Length
Virgin Media
£47.00*
12 months
Standard
£39.98*
6 Months
Fibre
£52.98*
9 Months
*Virgin Media does not have a telephone line, however Standard and Fibre does include a telephone line rental of £16.99.
Ultrafast broadband
Virgin's M200 broadband and intelligent wi-fi are designed for houses of multiple occupancy. And our standard and fibre options deliver class-leading broadband with 24/7 support.
Monthly Management Fee per house (inc VAT)

£2.98
TV licence
If you watch live TV or any BBC programmes on iPlayer, you'll need a TV licence (it's the law). Your TV licence fee is set by the UK government.
The management fee covers the cost of managing your TV licence for you including sharing the cost between the tenants and spreading the payments out for you.
Monthly Management Fee per house (inc VAT)

£1.50
Water
We'll contact your local water company to register your supply, then divide the cost equally among all housemates, so everyone pays their fair share.
Your water charges are set out by your local water supplier. We will only ever charge what you would have paid if you had gone directly to the water and sewerage supplier plus a separate management fee.
Late payment charge of £10

Returned cheques

Missed engineer appointment charges (£120.00)

Payment due on the 1st of each month

Early contract termination
One-off charges
There may be one off charges for specific administrative reasons – but don't worry, these have no effect on your monthly payments. We're honest and transparent about when and where any charges apply, so you always know where you stand.
If you use your telephone line for calls please see our charges here.
Terminating a contract early – refer to our cancellation policy here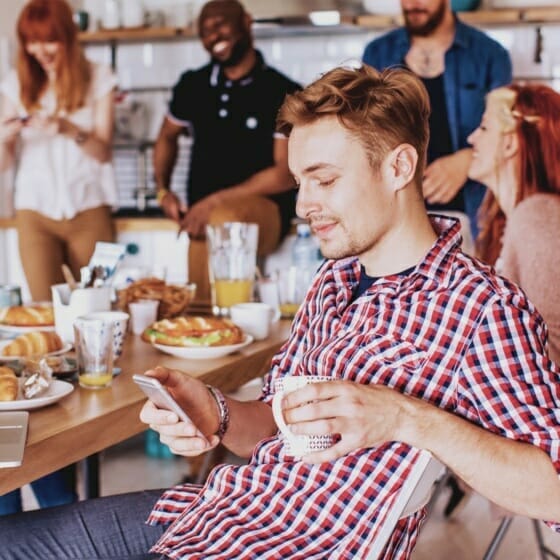 Get the Glide app
View your energy usage, check your payments and stay in control of your spend with our app, available for iPhone and Android phones.
Join

87,272

tenants (and counting)
who hate bills but love Glide
Thousands of students across the UK trust us to provide their utilities and make life simple. Easy setup, no arguments, and more time to do the things you want.
Already with Glide?


Refer a friend & we'll give you £50
If you've just moved in and Glide is your provider, don't worry, we can sort it out, or you can switch to another provider
Glide can really help with budgeting and planning, and – if you prefer – we can allocate payments to you
With our super-fast broadband and wireless router, you can use video chat services and make unlimited digital calls back home.